The water
Xino Nero has rich sources of carbonated calcium carbonate natural mineral water. The water gushing from the village springs is bottled at the local automatic bottling plant. The main characteristics of water are the clarity and the content of trace elements of calcium, potassium and magnesium minerals, necessary for the proper functioning of the human body. The natural enrichment of the sources with free carbon dioxide is due to the purity and the peculiarity of the taste of the water. Xino Nero belongs to the category of thermal springs, with research to have confirmed its beneficial effect on the liver and kidneys, while it is known to be a diuretic and helps digestion.
The place
The Local Community of Xino Nero belongs to the Municipality of Amyntaio and is a modern settlement of 1,300 inhabitants.It is located in the NW part of Macedonia, at an altitude of 650m., 30 km SE of Florina and 5 km NW of Amyntaio. The main feature of the settlement is already stated by its name which, either in its current form,or to the one it had during the Turkish occupation (Six You), refers to the existence of natural mineral water springs of exceptional quality.The vessels and the iron tip which have been accidentally found near the modern settlement of Xinos Nero are an indication for human presence in the area since antiquity. The village preserves elements of traditional architecture,of which the building of the Primary School in the square of the village where the 1910 and was used by Allied troops during World War I as a Hospital.
The Square
The School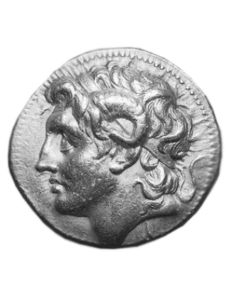 Coin of Alexander the Great
General d'Esperey
Legends & History
The thermal properties of the natural mineral water of Xino Nero have been known since antiquity. Aristotle was obviously referring to the sources of Xino Nero, when he was talking about a thermal spring in Lygistida. According to the legend and the popular tradition, his mother brought Alexander the Great here when he was still young, to quench his thirst and to arm himself with the power of water for his hard battles, the great recruiter would give. In Byzantine times and during the Turkish occupation, the sources of Xino Nero were famous for the healing properties of natural mineral water in stomach ailments, nephritis and other diseases. The first bottling plant in Xino Nero was built by the French of the Eastern Army, during the First World War. General d'Esperey had described Sour Water as equal, if not superior, to the French mineral waters of the same name, and so he hastened to use it for the French troops.